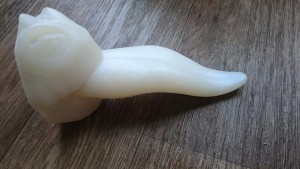 When I first happened to come across bad dragon it was by typing in "the strangest dildos" into google I wanted to see the most strangest and unusual dildos out there. And the dragons tongue was 10 on a list of freaky masturbators and weird looking vibes. I clicked the link to Bad Dragon and then I thought wow I want a dragon tongue dildo!
After searching through the ready-made section I wasn't sure how bad dragon worked I hadn't ever seen a company that lets you customise dildos before. And I fell in love searching the Bad Dragon site for hours each day I readily became familiar with the process of customise and flops and ready-made. The first bad dragon I got was Meng though and not the dragon tongue I wanted. I was waiting for the right colour to come up in a ready-made. It did and I couldn't buy it because I had no pennies at the time and someone snagged it.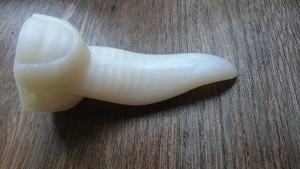 Since then I have eagerly kept my eye on the Dragon's Tongues in the adoption section. I had acquired a lot of BD dildos before I finally got a Tongue. Bad Dragon has been releasing birth stone colours each month now I was unsure what to get in mine as Mr decided he would get me something in the "Diamond" colour for my birthday pressie. So I chose the tongue it wasn't what I had in mind for the colour of the tongue but with it being my birthstone it would be extra special.
So Mr ordered my custom Medium Dragons tongue, in firm firmness with Diamond colouration. I chose medium because its about time I went up a size before BD I used small toys now I have become somewhat of a size queen and have gone up to a Medium bad dragon size which small from bad dragon usually equals a large anywhere else so yeah it's a big leap. The Diamond colour is a pearlescent white with a hint of blue shimmer through it, I was curious as to how BD was going to show the diamond colour as diamonds have hues of all colours in them they seem to be clear and colourless but shine a rainbow of colours in the light, I think BD did a great job!
When my Tongue arrived I was super excited it arrived with my Sleiphnir and I was more excited about the tongues colour then the other dildo I twisted it in the light to see the shiny dildo sparkle. It looks amazing.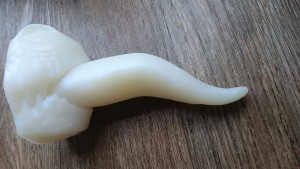 I lubed up the tongue and inserted the curved tip into my pussy giving a couple of thrusts to entice my g spot. I then wanted to see how much I could take slowly working the dildo into me bit by bit with each thrust. The girth stretching me toward the base the curl of the tongue pressing against my vaginal walls making me feel good in places I haven't before. I twisted the tongue around so that it was horizontal with the line of my vag. This was incredible that natural shape of the tongue meant this was the most comfortable way to use this dildo like a jigsaw it just aligned with me perfectly. Thrusting this was amazing the curve and the tip of the tongue brushed the side walls of my vag stimulating me to the max. I pound the dildo in and out and in and out and boom! I explode into an immensely pleasurable orgasm.
Overall Rating
Appearance

Shape

Length

Orgasm
Summary
The Dragon's Tongue doesn't have much texture so not one for those who crave extreme texture but I would recommend those who like flat dildos and also a gradual girth to go for the Tongue. The tapered tip means that if you want to use it for anal play it will be easy to insert. The curves are extreme and can give intense stimulation to those spots that are hard to reach.
RRP: £63.79
You can find the Dragon's Tongue at 

Bad-Dragon.com