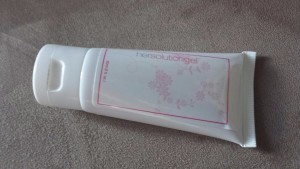 I received HerSolutionGel from Vitenza in return for my honest review. When I was contacted to review some sexual wellness products for them I couldn't refused I was shipped two of these products straight way they then arrives a couple of days later.
HerSolutionGel Is a gel designed to enhance the feeling around the vulval area. The HersolutionGel is easy to apply you simply squirt some out onto your finger then for the best results apply by gently massaging it into the membrane underneath the clitoris. This works immediately and you start to feel a tingly breezy sensation around your vaginal entrance and clitoris.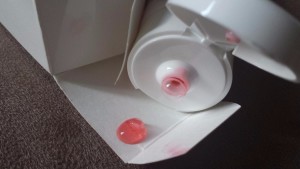 HerSolutionGel is a pink transparent gel with a thick viscosity, meaning it is not too watery to apply. The pink colour is aesthetically pleasing and some may like the fact the gel is pink. It is manufactured in the USA for Leading Edge Health.
The HerSolutionGel smells like menthol cough sweet/lozenges and perhaps an hint of muscle pain gel you know the types for aches and pains anyway I find this smell really pleasing and I am very tempted to walk around sniffing it all day. However I wouldn't be able to write this review if that was the case. I need two hands to type…
Ingrediants:
Olive Squaline
Shea Butter
Cocoa Butter
Aloe Vera Extract
Purified Water
Dipropylene Glycol
Carbopal Ultrez Polymer
Triethanolimine
Menthol USP
L-Arginine
Cirtic Acid
Like I said it does have a menthol type smell to it which would be confirmed as one of the ingredients is Menthol.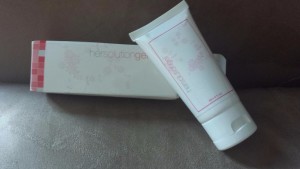 I applied a little amount of the Gel to the underside of my clitoris. I massaged the gel into my skin the moment it touched my skin I felt a really strong tingly breezy sensation like someone blowing on your clit. It tickled and excited me as I lay beside Mr kissing and snuggling to prepare to have sex. I was using a bullet vibe to stroke my labia and clit whilst he watched on. The vibrations felt stronger the feeling on my vulva made me want him so bad. Mr then asked if I wanted him to fuck me. To which I replied yes! I was ready and wanting and I needed him. As Mr penetrated me my vag was wet and ready the pleasure I felt while he inserted himself was exquisite. Every inch I felt more and more, I was ready to climax. I held the vibe to my clit bringing myself to orgasm as he thrust slowly and deeply so my orgasm was prolonged. Again and again I orgasmed it seem to never cease, I was so near the end yet I didn't want the pleasure to halt. I came at last writhing and bucking Mr Thrust into me again, my orgasm had made me so sensitive along with the gel I felt everything. Every little wiggle, thrust and circle Mr made I was just in pure bliss. As Mr then announced"Fuck, I'm going to come!" I was too busy in my own little pleasure bubble to respond. I felt his cock pump as he came into me. All Thanks to HerSolutionGel it made me feel a lot more then I normally would during sex.
I also Applied some to my nipples to ready myself for some water fun with the H2O vibe this made me really horny and I felt the stimulation on my nipples added to the Pleasure I felt.
Overall Rating
Viscosity

Effective

Pleasure
Summary
So I really reckon that this so far is the best Stimulation enhancement gel I have used topping the Sliquid Ogel I really do recommend this to women who want to feel more sensation whilst having sex or maybe longer stronger orgasms like I did. Seriously go and get some HerSolutionGel and see for yourself it is amazing stuff.
RRP: £37
You can find HerSolutionGel at 

Vitenza.com