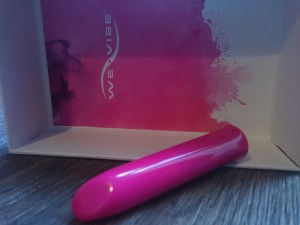 I won the We Vibe Tango in Blissfully Orgasmic's blogiversary give away alongside the we vibe 4 plus, I am very grateful I won these prizes because let's face it they are a huge prize to win.
I did not get to choose the colour of my Tango but I was happy either way I think the blue and the pink are stunning and not the average light blue and baby pink used for sex toys. I was shipped the Tango By WeVibe, I didn't have any communication with we vibe before the ETO Show so when I received the Tango I was super excited as I have heard it is the most powerful and well-loved bullet vibe out there.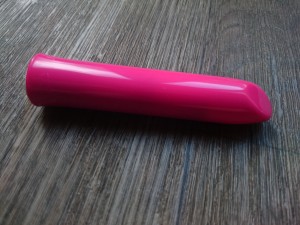 I held the Tango to my clit as Mr Pound into me rhythmically fucking me the tango on my clit began to dull after a while and made my clit numb. Mr thrust again and again I increase the intensity to medium after a few more minutes of feeling myself build and build I was numb again the pleasure gone I hitched it up to full speed and bam!. A crippling burning sensation spread down to my feet I took the tango off my clit shocked by the sensation, I placed it back on circling as Mr Thrust. I circled and circled I couldn't hold the tango still otherwise I would get that sharp pain again, I would build up and up then that sharp intense feeling would appear. Mr orgasmed I couldn't reach my climax.
I didn't give up I masturbated with the Tango and my Orchid wanting vibes as I squirted I held the Tango on my clit and that sharp feeling came I took it off I couldn't hold the tango to my clit. I had to alternate between putting it off and on it just got too much I climaxed using mainly my Orchid.
The tangos deep penetrating vibrations felt too deep for me and I have found my clit likes lighter buzzier vibrations that tickle the surface. The deep vibrations can be physically seen when the Tango is on it sort of drums instead of shakes.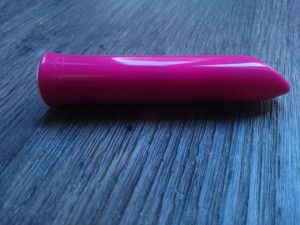 I found that if I held a simple bullet to my finger the vibes felt tickly and pleasant. When I held the Tango on my finger the vibes felt like that pounded through my bone, this for me isn't pleasant at all. I think for those who want deep vibrations that penetrate deep within your body to climax then this would be a great vibe I however do not like the thrumming sensation it gives my clit it is almost too powerful for me.
Overall Rating
Apearance

Vibrations

Orgasm
Summary
I only recommend the We Vibe Tango to those who want powerful extremely deep vibrations and those who do not need light vibrations to climax.
RRP: £54