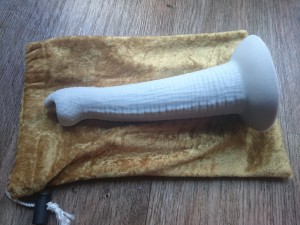 I was given the Elephant trunk free of charge (minus shipping) by Exotic Erotics. They sell fantasy toys as well as the new high fantasy range and also life casts. I chose the Elephant trunk because it looks so lifelike.
I chose my Elephant Trunk to be in the natural grey colour, with a dual core firmness and a small in size. Dual core is available for this toy I have checked on EE and the option isn't available for all the toys on the website, Dual cored toys have a harder centre with a softer silicone around the outsize of the toy giving the impression of skin and muscle. This gives you a real life like experience and is the way to go with dildos to make them feel more realistic. The cored option for the Elephant Trunk to me seems logical Elephant Trunks are entirely muscular so the fact you get the core option adds to the illusion of it being as realistic as possible.
The Elephant trunk may not look like it has much texture apart from the creased indentations of the elephant skin. However the texture is very apparent and can be felt immediately! When I received my elephant trunk I was shocked at how small it was I knew it would be quite large but the base is so light weight and tin not bulky at all making the whole dildo seem smaller.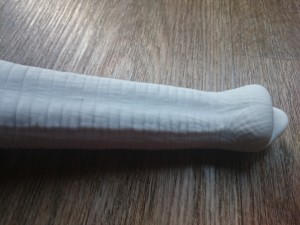 My order came in a box with care instructions and a card from EE when you check out from EE they have an option to add a FREE storage bag! This is idea because you can store this dildo with others without worrying if the materials will effect it. Not only are these storage bags free but they are handmade and of great quality, the bag you will receive will be random you will not get to choose the material or pattern/colour. This is amazing you get a surprise every time you order! My Elephant Trunk came in a velvety, swede golden caramel bag. Inside the storage bag my elephant trunk was sealed in its plastic bag. EE state you do not open this bag unless you are certain about the product as they will not accept to refund a product which has been removed from it. Due to the nature of these products it is totally understandable!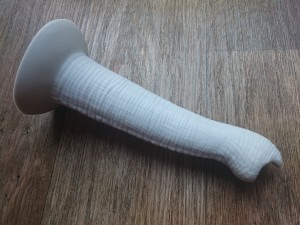 I lubed up the trunk and then inserted the tip into my pussy. The immediate texture felt amazing it gave a sort of matt feel to the texture making my pussy want more. Inserting it fully I thrust slowly savouring the delicious feeling of the texture which feels so apparent when it's inside me. I had the Yuki on my clit and I slowly thrust the trunk into me the soft silicone moulded to my vaginal walls bending to fit me. The shaft was soft yet firm enough to tickle my g spot. I thrust fast rapid short thrusts the yuki doing its magic my vaginal clinging to the dildo as I thrust it into me. I found if I inserted it up to the base I could wobble the base from side to side moving the dildo inside me, my pussy loved this movement and I built up to one powerful orgasm the trunk shooting from my vagina.
This is such an amazing company the fantasy toys they produced are well loved among the blogger community I am delighted I got to sample the fruits of their labour.
Overall Rating
Appearance

Length

Texture

Lifelike

Orgasm
Summary
Okay so my recommendations are this is an amazing dildo if you want gradual girth, and a textured shaft that is quite pronounced. Not recommended for beginners but if you are intrigued in fantasy toys go check out EE's site there's lots of stuff to have a nosey at.
RRP: £51.28