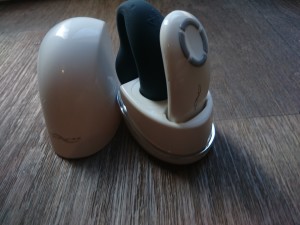 I won the We Vibe 4 plus in a competition hosted by blissfully orgasmic to celebrate her blogiversary. This was a great prize to win and I also won the We Vibe Tango alongside it so I owe her a big thank you!
The We vibe 4 Plus is a remote controlled couples vibrator which can be used solo or during sex with your partner it has it's own remote control so you can use this to control the vibe hands free or let your partner be in charge of the vibrations for a whole new experience.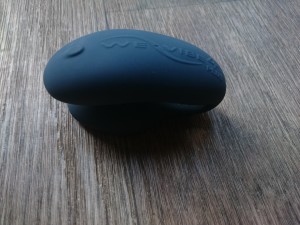 The We Vibe 4 Plus also has a downloadable app which can be used to control the We Vibe 4 Plus. You can also customise your patterns or speeds using this app. You can create a vibration mode by using the pre-selected modes on the drop down menu and put them in a sequence to create your own vibe setting, you can then connect this app to your vibe a play the vibe you created without even pressing a button on your We Vibe. This is amazing technology and you can have great fun customising the vibe modes for your We Vibe.
The We Vibe 4plus also has two motors one in each tip these can alternate in vibe patterns to give internal stimulation then clitoral stimulation or both. The We Vibe 4 Plus comes with a rechargeable case which you place the vibe into and the remote and it charges it, this is also very discreet if you live in a shared house hold it all packs away into this little case. Now this vibe is also waterproof and doesn't even have any magnets or charge ports so I am absolutely bemused as to how it charges in the case but it does and I think this is pretty cool. To fully charge the We Vibe it take 4 hours then that gives you 3 hours of play time. It comes in 3 colours, Pink, Purple and slate personally I really like the purple one.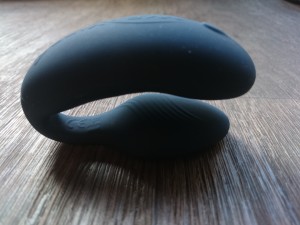 I Inserted the triangle arrow tip shape into my vagina this was a little uncomfortable at first however when it was on it was fine. Mr inserted his cock into me and then the vibe popped out of my pussy and fell out i am not sure if this was due to Mr's cock pushing it out or not. We then chose to do doggy style with Mr wearing his JNaja his balls would be super comfy for my ass to bounce off. So again I inserted the We Vibe then held it in place Mr put his cock into me and I removed my hand then within a couple of thrusts it fell onto the bed beneath us buzzing around like a fish out of water. Again we persisted and switched to missionary I was forced to pull the vibe up past my clit onto my pubic hair just to keep it in place. Mr turned up the vibe and everything was heightened every thrust he made gave my vagina some great orgasms however after he turned it up even more the pressure on my clit was too much sending an immense burning sensation down to my toes this happens when I am over stimulated and it very uncomfortable. After that subsided when it was turned on low I failed to reach a clitoral climax this left me really frustrated I thought I would at least get a clitoral orgasm from this vibe.
After the feeling of frustration I chose to reach for my trusted Siri 2 which never seems to let me down and brought me to orgasm within mere minuets. I was left disappointed in the We Vibe 4 Plus. I asked Mr if it felt comfortable for him when we were using it and he said it was pretty uncomfortable when it brushed across his bellend I can understand this as it is a pretty hard silicone.
Overall Rating
Appearance

Vibrations

Shape

Orgasm
Summary
The Wevibe 4 Plus in theory seems like it should be amazing but when it is used it feels irritating and slightly painful against my clit. Mr didn't like it one bit as it pressed against him too much he calls it "the bellend burner" the friction against his sensitive tip was too uncomfortable for him. It's a shame really I wanted to like this vibe.
RRP: £89.95
You can find the We Vibe 4 Plus at 

Belldesoir.com