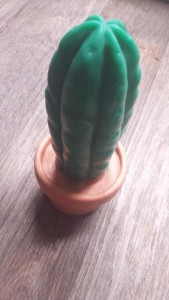 I was given the Pedro The Cactus by Primal Hardwere in return for my honest review. The reason I chose this dildo to review from them is that it has so much girth and I wanted the challenge it is the girthiest dildo I now have.
Pedro is a cactus it looks so real I am tempted to use it as an ornament on my window sill then if I get asked if its real I will say no it's a dildo and giggle at the response I get. It looks amazing. Pedro is made from soft silicone however it isn't as soft as most softs are I would say it equals to bad dragons medium which I don't mind as I like my dildos firm anyway. I like the Firmness to be firm so I can feel as most of the texture as I can. Pedro has quite a few details that are worth noting instead of prickly spine it has indentations that are circular like where the spines would've been if it was a real cactus obviously you wouldn't want to shove a real one inside you. Also Pedro has a life size plant pot base this is quite thick so I find that it is great to grip being a bit of a thrust whore when I masturbate the base helps me control the dildo more easily.
Pedro comes in one colour which is the natural colour of the San Pedro Cactus which it is modelled after. Hence its name. Pedro is a novelty and I think that primal hardware have really had a great idea of taking the worst thing you would want to have inside you and turning it into a dildo this is right up my ally I have said before I like thinks that are strange and unusual especially when it comes to dildos. They have med it the most stimulating they can adding in dents, bumps and ridges this is both a texture and girth lovers' wet dream!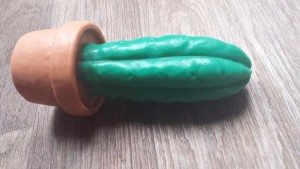 After using my colours dildo to warm up and my siri2 held on my clit I inserted the tip of Pedro this guy is huge I felt my g spot tuck itself into my vag wall and my walls expand to accommodate this mammoth. I wriggled Pedro and this made him slip in quite nicely even with a warm up and loads of lube it still was a squeeze nothing like I have had before however I enjoyed the full feeling. With only a little nudge on the base the dildo sparked every nerve ending I barley had to do anything to achieve orgasm this dildo filled me that much that every spot that I needed pleasured was being pleasured. I pushed further on the dildo and I was able to take it all the fullness was divine and this was a very new experience for me being this stretched by a dildo. I thrust a few times giving myself some hard core deep thrusts. I then inserted only half the dildo up to where it starts narrowing as I wanted the fullest part of me to be the entrance of my pussy right by my g spot. I wiggled the dildo in a circular motion the feeling of this was so incredible it made me orgasm over and over the Siri 2 pressed on my clit was bringing me to a clitoral climax and then my hand ferociously circled the dildo making me explode.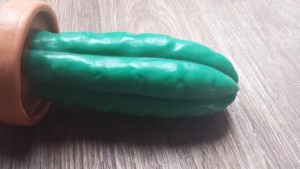 Girth Girth Girth! This dildo has amazing girth I get the fullest feeling from using this dildo and think if you are advanced when it comes to taking dildos and need that filling sensation pedro will sure enough give it to you I really do love that stretched feeling I get from using  this dildo it stimulates every little nerve ending.
Overall Rating
Appearance

Texture

Girth

Orgasm
Summary
The taste required to get Pedro is very singular but I think if you are really interested in all things that are dildos and girth this will be your new best buddy. He is very girthy and I mean HUGE! So if you require a larger then large dildo or need that filling sensation you need a Pedro in your life.
RRP: £50.85