Dildo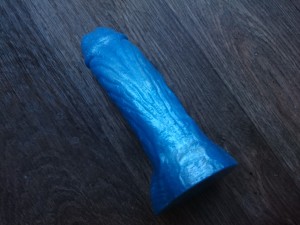 We received the Fleshlight Alien Dildo and Fleshlight in return for our honest review by Fleshlight. We decided to do another couples review as it is something different. You can purchase the Freaks range in both Couples sets and individual so it only seemed logical for us to do couples reviews for those who want to know what the fleshlight and the dildo are like.
The Alien dildo is an amazing blue colour which suits me perfectly because I love the color blue however I would've liked it to be green or even grey for those who are familiar with those alien documentaries where people claim to have experienced aliens they have different types, the greys are superior to the normal green aliens. Anyway I think this would've suited better never mind that's just my personal opinion, and as you may figure out the blue color resembles the alien beings in a certain film that almost everyone has watched.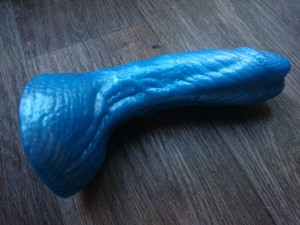 The Alien Dildo features two bellends which are fused together I would've thought that they would spilt just to make it more interesting but I like it none the less. The heads are really well shaped for me and I really like the way they have been designed. The shaft starts thin then gets more girth towards the middle then narrows slightly to the base. The base features a great set of balls quite similar to the drac's and it is great for using as a grip when thrusting. The shaft is made what looks like two that are fused together much like the bellends with little details such as raised nubs and vein like texture which when you take a closer look add to the realness of this dildo. Making the experience you have Extra Terrestrial and one you will not forget.
When using this dildo I can feel the girth stretch my pussy it is somewhat girthier than the drac however once I have reached the middle it slides right in. The firmness of this dildo makes me feel every little bit of texture. The Alien's pleasure probe explored every inch of my pussy. The middle girthy part of the Alien hits my g spot this stimulates my g spot whilst I thrust. I did have to add more lube mid use with this dildo because of its girth. I used the Alien whilst my Perfect Plug was in my ass and this made me notice the texture on the dildo more. I thrust fast with the Alien causing my climax to build and build. I was able to have my release within a little space of time due to the hard girthy Alien.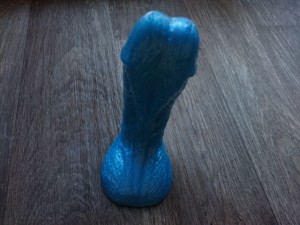 I really love this dildo I was hoping the girth would be a challenge and it would irritate me however I love it just as much as my drac!. The shaft curves down towards my ass which is a little weird as I haven't had the sensation of it grinding my back walls before. If turned upside down this dildo does amazing things the balls become a clit stim and the curve lines itself with your g spot making a squirting session much easier to achieve. Move over Christian there's a new Grey in town!
Fleshlight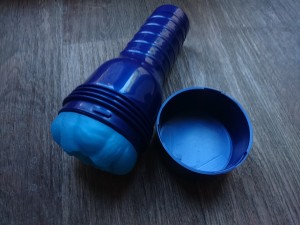 The Alien fleshlight freak couples set was sent to us by fleshlight for an honest review, when it comes to the fleshlight freaks i could see why some people would find it a bit on the weird side and some others would find it interesting. My thoughts on the alien fleshlight are as followed, I'm happy to say that i adore this fleshlight as it comes with an interesting sleeve as there is a vortex swirl like texture on the insertion of the sleeve. On the deep end of the sleeve the texture starts to change into a bumpy texture, where there is more of a realistic feel to it.
The feeling of this product is quite interesting, as is said earlier it starts with a swirling texture on the insertion of the fleshlight and then once you've passed that it becomes more of a bumpy feeling. When it comes to actually inserting myself into this fleshlight its quite interesting feeling on the tip of my cock where it swirls around the tip of my cock then leading to the ridged bumps that caress the whole of my shaft and helmet. With these two types of textures between each other they tend to make a good combination in pleasure, as they both put a lot of focus on stimulating the tip of the cock.
Fleshlight deliver some great textures, especially in the fleshlight freaks and this masturbator is a lot similar to the other freaks considering that most of their freaks have ball bump's around the end of the sleeve for stimulation around the bell end. There are some differences between the freaks as they all have different textures on the entry, for example the cyborg has a circuit based entry which really interests me as a computer nerd and a sex addict.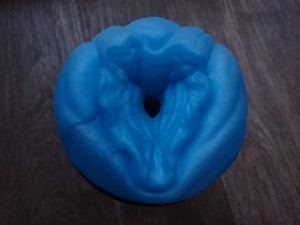 After the masturbator has had its use and there's a Fleshlight full of running spunk the best thing do is take all the lids off the fleshlight, including the top and bottom lid and giving it a good rinse with some warm water. WARNING! DO NOT USE SOAP ON THESE TOYS! When it comes to masturbators they are very fragile around other chemicals as the masturbators are not made of tough material, this is to give a soft feel for male masturbation… It's by design!
Fleshlights and masturbators i don't believe they let me down, the feelings of these sexy hide aways are amazing for a good-old quickie! Even though this isn't the real deal, it's defiantly close but it dont give you no emotion like the real thing. When it comes to the pleasure of these toys they defiantly deliver, if you're thinking of getting a masturbator don't be shy. Just get your self a FREAK!
Overall Rating
(Dildo) - Texture

(Dildo) - Firmness

(Dildo) - Appearance

(Dildo) - Orgasm

(Pussy) - Appearance

(Pussy) - Texture

(Pussy) - Pleasure
RRP: £50 (Each)