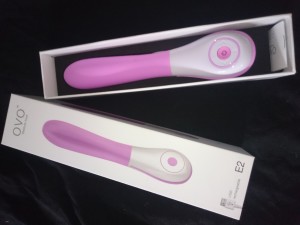 I was given the E2 by Ovo in return for my honest review. This is not going to affect the outcome of my review. Also a big Thank you to Ovo for sending me the E2.
The E2 is slightly curved towards the G spot and has a smooth rounded tip. The touch control panel controls the vibrations. You press the power on button to turn on, then the > to go through the settings and < to go back. When in a setting you can press the + and – Buttons to change the speed. These features are much similar to the Siri 2 and I love how you can increase or decrease the vibrations in each pattern. The E2 has 5 patterns to choose from varying from continuous vibrations to pulsation modes.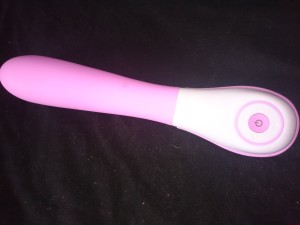 Mr turned on the E2 and began to insert it, I didn't need any lube as I was super excited and the vibe has little girth, once inserted I found that the curve aligned with my body shape and fit snuggly in my vag. Mr thrust vigorously changing to a pulse setting I then grabbed the vibe wanting more thrusts than he was giving he watched as I changed to the high speed setting. I thrust again and again showing him what I needed. He then took the vibe from me and the speed changed which was due to the touch control being brushed across this was sort of frustrating for me. He then put it back to the right setting and thrust like I showed him to I could feel my G spot throbbing, growing with my arousal I needed to come. A couple more thrusts sent me over the edge the Ovo shot out of me and I came so hard.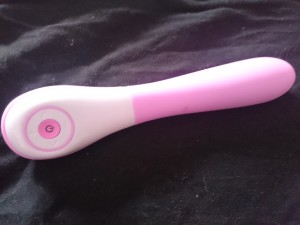 The E2 is a sleek and slim vibe and I think that for a basic rechargeable vibe that looks more expensive than what it is seems to me that you can get a touch of class without spending large amounts of money. The touch pad is a little sensitive and maybe not essential but it's a great novelty to have on a toy. In my opinion Ovo's toys are very designer looking but are a lot cheaper than high branded toys.
I love the E2 it both looks and feels great and I think that if you're on a budget but want a good quality rechargeable vibe that isn't too dear than this is the vibe you want. Also I recommend for all Barbie's to get the pink one as it would match all your outfits.
Overall Rating
Appearance

Vibrations

Length

Orgasm
Summary
A great stylish looking vibe with powerful vibrations. Looks a lot more expensive than it is and is a cheap alternative to other rechargeable vibrators. The black looks stunning however the pink colour just wasn't for me I would suggest getting the black one because it looks way better.
RRP: £50