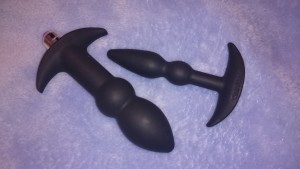 The Perfect Plug Kit was given to me by @Tantus_Pirate who is amazing and really looks after my fellow bloggers!! I have to say a huge thank you to her for the chance to review these plugs for Tantus.
The Tantus Perfect Plug kit comes with both the Perfect Plug and the Perfect Plug Plus. Giving you the chance to explore anal play with both a slim starter plug and also a vibrating girthier plug for those who have a little more experience with anal play. These Plugs are both suitable for men and women which to me is great and they come in two colors either purple or black (no horrid Barbie pinks!) and they are not aimed at a specific gender which I find most plugs are either aimed at women or men and hardly ever both.
The silicone on these plugs is firm yet you are still able to bend them a little. They can be sterilized (take the bullet out of the Perfect Plug plus first) and have a flared base that can fit between the cheeks for comfort which means you're not going to get any round indentations on your ass cheeks!
Perfect Plug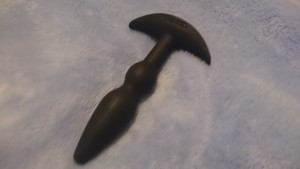 I really wish that this was the first plug I ever used as it really is perfect to me! The Perfect Plug is ideal for beginners with its slim body and that added bead on the end for texture it really does hit the spot for me.
The base fits snuggly between your ass cheeks ensuring your nice and comfy without the base digging into your flesh. The tapered tip is easy to insert this means even if you haven't tried a butt plug before you will be able to insert the Perfect Plug with little effort.
I began by lubing myself and the plug up making sure I was relaxed I inserted the tip this was really easy for me I don't usually use plugs while masturbating however this plug to me felt totally unintimidating and I wanted to use it on my own without having Mr use it on me. The plug slipped in nicely and I could feel what I would describe as a finger type of length with a little girth so it was super relaxing for me and I got extremely aroused by the feeling of the plug inside me, I began to use a clit vibe my vag contracted however the plug did not move it stayed in place. I asked Mr to fetch a dildo he presented the alien which I then started to thrust inside me even with the dildo entering me the plug stayed put and I could barely notice it was there. My thoughts where" I could wear this plug all day" yes it is that comfortable. Having climaxed the dildo popped out and the plug was still there!
After that session Mr wanted some action he was wearing the Sleek extension and I had the plug in me. He entered me without the plug popping out. The plug added to the intensity of the penetration it heightened every thrust and I was able to relax and comfortably enjoy the full felling I got without worrying if it was still inside me. Even when Mr was a little rough the plug didn't move it jiggled inside me however the base was like concrete it stood still.
You get what it says on the tin with this plug it is perfect and I have to say is a favourite of mine. It is extremely comfy, I can't even stress to you how comfy it is I could wear this all day without any irritation.
Perfect Plug Plus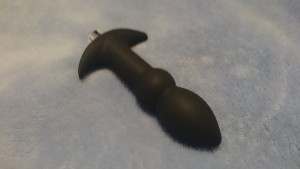 Mr began inserting the plug gradually until I was able to take it all it is quite a wide plug so a lot of lube and relaxation is needed when using this plug. I felt the vibrations ripple through me I was able to feel them in my vag which surprised me. The plug made me extremely horny so Mr then used a dildo to penetrate me while I begged to suck his cock. Then asking Mr to fuck me I grabbed a bullet and held it to my clit Mr entered me as he did this I felt the pressure against the plug increase I could feel every little thrust. I was so near, the vibrations in my ass on the highest setting and the bullet on my clit pushed me forward I had what I can only describe as a triple blended orgasm. Mr and I both climaxed simultaneously which almost never happens I always take longer to climax. My ass felt so good at that moment the plug stayed put through all of this which I am grateful for as it enhanced both the sensations for me and Mr.
The base of the plug settled comfortably between my arse cheeks and I barely knew it was there it didn't dig into my flesh like other plugs I have tried. The plug Plus was indeed perfect and I truly enjoyed it. I felt that everything was heightened during using this plug and Mr was able to feel the vibrations in my pussy so it's a win win situation for us.
Overall Rating
Appearance

Vibration

Legnth

Girth

Orgasm
Summary
I really like these plugs and find that they are indeed perfect, I have only ever tried one other tantus product the sport which I didn't like so I am so glad I didn't dismiss tantus totally the sport just didn't agree with me. These plugs are amazing and the fact they come in a set is great you really do get the best of both worlds a beginner's slim plug and a grithier vibrating plug for those who are a little more adventurous.
RRP: £45
You can find the Perfect Plug Kit at Tantusinc.com