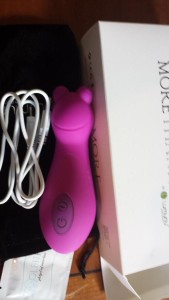 I was given the Frog prince in return for my honest review by Lumunu, My personal experience with this company has been amazing they are quick to answer any queries' and are very polite and welcoming when emailing me. They make some great products and need to be more noticed.
The frog prince Vibrator is in-between a classic and mini vibe size I thought it would be a mini vibe however when it came it is big enough to use as an insertable vibe too. It is made of silky soft silicone that doesn't collect dust which some silicone's do. The Frog prince is rechargeable and comes with a USB charge wire which will only need charging for 4 hours to give you 4 hours of play usage.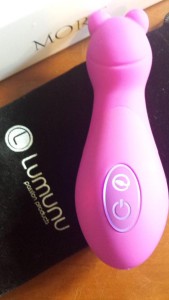 The Frog Prince has 10 vibration settings 3 speeds and 7 patterns. To turn on the vibe you press the power button to then to start the vibration you need to press the button above it, you can press this button again to cycle through the settings. Here is what comes in the box: A velvet storage pouch Lumunu Passion Products (for accessories), USB cable / charger, Aquaglide lubricant and English instructions. The cute little Frog design is what made me fall in love with this vibe it sort of looks like a pink version of Kermit with a happy smiley face it's just super adorable.
I began by turning on my Frog Prince then I chose the slow setting to warm up I inserted the Frog prince into my vag and the eyes of him stretched my vag walls I could feel them spread me out as I thrust him inside me. The shape of his head meant that my G spot got a lot of firm stimulation from thrusting coupled with the stretch of his eyes felt amazing. I then took him out and began rubbing the face along my vulva I settled my clit in between the two eyes and positioned myself so that they just touched the space between my tiny inner labia and my outer labia. I orgasmed within mere minutes in this position I cycled through so that I was on full power and bam another powerful orgasm.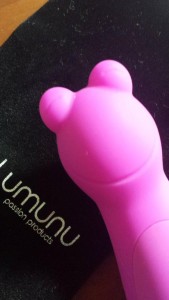 I love this little vibe it is adorable and definitely pleases me I took this quote from the site which basically sums up what the Frog Prince is about "The form is designed so that it can be used as a normal vaginal and also as a resting vibrator. With both eyes you can stimulate the clitoris specifically." I have to say if I was buying a vibe which I wanted to use vaginally and externally I would get the Frog Prince it is just amazing and very truly powerful for a vibe of its size I would say it's similar in power to a Rocks off bullet which is brilliant.
Overall Rating
Appearance

Vibrations

Orgasm
Summary
The face says it all how can you say no to buying this cute little froggy vibe?
RRP: £47.99
You can find Frog Prince at Lumunu.co.uk