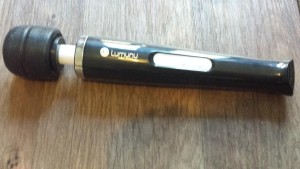 I was sent the Lumunu Deluxe Wand by Lumunu free of charge in return for my honest review they were very quick when shipping the wand to me although I was missing a charge cable so with a quick email they then sent me a new wire, a bottle of lube and also another of their velvet pouches, which was very kind of them.
The Deluxe Wand features a removable silicone cover for the head of the wand which in my mind is great because compared to my doxy wand which is none removable this means I can take it off to wash it more easily. The Deluxe Wand is re-chargeable and not mains powered which means I can use it anywhere and not worry about being near a plug socket or the wire getting tangled. To charge the Lumunu wand you just insert the wire into the base and then the USB into any USB port or a USB plug adapter and charge for 4 hours. This is what to expect in the box: A velvet storage pouch Lumunu Passion Products (for accessories), USB cable / charger, Aquaglide lubricant and english instructions.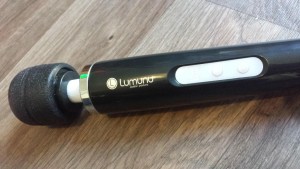 The Lumunu Wand has 20 settings 10 of these are speed settings and another 10 are patterns. I like the way it is simple to allocate the speed on this wand compared to the doxy which when turned on starts at 75% power the LUMUNU starts when you press the power button it cycles through the speeds/ patterns when selecting a pattern you can press the * button which will heighten the speed much like the functions on the SIRI2 which I love. So this wand is super easy to use. The power on this wand is quite unique I was expecting it to be a lot less powerful than my doxy however it is quite the same just a little less powerful, I don't use my doxy on full power so the Lumunu Wand is perfect for me and given the choice I would choose the Lumunu due to the fact it is half the price and has a removable silicone cover and is also rechargeable.
When I used the Deluxe wand even on the low setting I was able to get aroused really quickly with me rubbing it over my vulva I quickly got wet and was able to use it on my clit, having cycled through the various settings I found I was able to climax on a pulsating mode which I don't normally do, I have only ever been able to climax on the Siri 2's pulse mode before so that alone made me love this wand even more. I enjoyed using this wand so much I didn't stop just after one orgasm I then continued to cycle through to the highest speed orgasming in less than 5 minutes, then after I used the slowest setting which also brought me to orgasm in less than 10 minutes.
I took the removable cover off the tip and was able to wash it thoroughly with soap and water and let it air dry. The velvet pouch that comes with every product from Lumunu is just so good it deserves a mention, it is made of good quality thick velvet material which features the Lumunu branding in a silver print. It has drawstrings and I tend to use them for dildos which don't have boxes to keep materials from coming into contact with each other, they can also be used for storing condoms, lubes and charging wires. I just love these pouches!!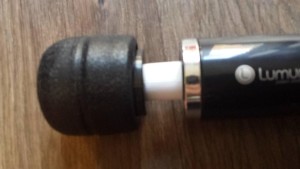 So would I recommend this Wand? Of course being half the price of a Doxy and in my mind just as good with features the doxy wand doesn't have this wand is a bargain. And well worth getting just for a nice portable back massager even if you don't intend on using it sexually it is a great Wand and deserves some credit. I have compared it to my Doxy Wand which is one of the best you can get and it is so hard for me to choose which one I like better however that being said the Lumunu is cheaper so I definitely say that you get a lot for your money here.
Overall Rating
Appearance

Vibrations

Orgasm
Summary
The Lumunu Wand is just so incredible for the price and totally worth getting
RRP: £63.99
You can find Lumunu's Wand at Amazon.co.uk