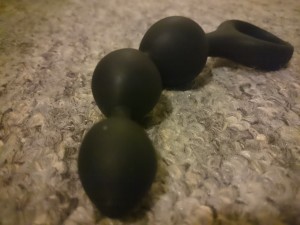 I received The Triple Ripple anal beads from Belle De Soir in return for my honest review I must thank Belle De Soir for sending me items to review they are a great company and very friendly to work with.
The Triple Ripple Anal beads are made from silicone that is extremely silky to touch. Triple ripple beads feature a small bead that is relatively small and can easily be inserted the second bead is a little bigger than the first with the last bead being almost twice the size of the second bead. The triple ripple anal beads have a finger loop to ensure they won't get sucked up into the anal canal. This loop is thick where closest to the beads and goes thin I would've proffered having the same thickness around the whole ring, however the thickness of the pull ring doesn't affect the product at all.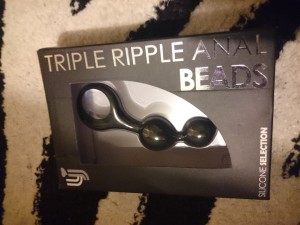 After lubing the beads up with Sliquid sassy Mr inserted the first bead with me rubbing my clit. The second bead easily followed as it's not that much bigger than the first. I then came to a point when inserting the last bead became a struggle with the application of more lube and a few deep breaths I grabbed my body wand mini and found that the last bead slipped in easier when I used the wand on my clit. I felt myself contracting around the beads as Mr wiggled and turned them I have to say this feeling is amazing! As soon as I was close to my orgasm I told Mr to take them out so as I reached the peak of my orgasm the feelings I got where heightened due to removal of the beads.
The beads where easy to clean due to the silicone and the fact that there isn't any seams. I think that these beads are great for beginners especially because the length of them isn't that long and the natural curve to them can give some great prostate pleasure.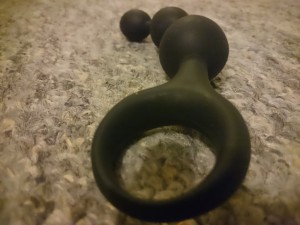 I have only ever tried another set of beads before and they were horrible, with the silicone on the triple ripple beads being soft and flexible you don't get poked and prodded in places that make your experience uncomfortable. Triple Ripple Beads are a basic essential for men and women who enjoy anal play and they are really inexpensive which means they are a nice toy to start with and they are silicone which I really recommend getting when buying toys I advise against the "jelly" type anal beads.
Overall Rating
Shape

Comfort

Base

Orgasm
Summary
These anal beads are a great introductory toy for those who are interested in anal play.
RRP: £8.95
You can find the Triple Ripple Anal Beads at Belledesoir.com