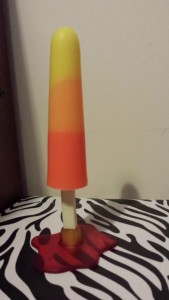 I had been after a Pure Pop for a while and I noticed that hole punch toys only gave me the option for us shipping when checking out however I found that for international orders they take them via email. I saw my Pure pop on the MisFits section of the website it was a misfit due to the uneven coloration. This wasn't an issue for me so I placed my order. Hole Punch Toys are a small batch maker of individual Sex Toys that are high quality and made of high quality silicone.
When it arrived I was shocked at how big the Pure Pop was it is quite a big dildo. Pure Pop comes with a melted ice lolly puddle stand which I use to stick the Pure Pop in when in storage I find this little plastic stand a cute little gag type way of standing the Pure Pop up. The Pure pop is a silicone dildo that has a plastic stick through the centre to replicate an ice lolly.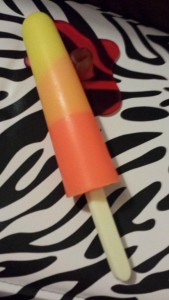 Due to shipping costs I didn't receive the usual packaging, this doesn't bother me however Hole Punch Toys where kind enough to send me a little card explain that they couldn't use the usual packaging and on this card was a drawn picture of a pure pop melting which is so cute. I also received a little gift to make up for the packaging which I think is really generous of Hole punch Toys as most companies don't offer any packaging at all. My gift was The Hole Punch butt plug in a nice orange colour which I shall be reviewing in another review. I also received a little sticker which made me laugh of the statue of liberty with the Pure Pop replacing the torch I decided to stick it on my dildo draws.
When inserting the pure pop I found that the rounded tip made it easy to insert and by holding the lolly stick it was easy to control the dildo. I slowly inserted the Pure Pop which was amazing due to the gradual girth increase it really felt like I was stretching with this dildo I enjoyed the full feeling I got. I am unable to take all of the Pure Pop as it hits my cervix however I am enabled to insert as much or little as I want. When thrusting the pure pop the silicone has just enough give and is non draggy I was able to control thrusts using the stick which acts as a great thrusting handle.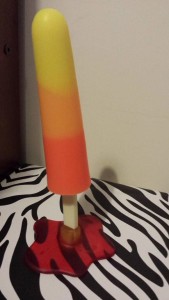 Recommended for both girth and length lovers as this dildo has both an incredible length and gradual girth. I also highly recommend this for beginners due to the face that it is really innocent looking and doesn't look intimidating the gradual increase in girth means you can take as little as you like. I also highly recommend this to women who like to thrust as the stick is a firm handle for thrusting and supports the whole dildo enabling you to control the speed and pace of every thrust.
Overall Rating
Appearance

Length

Girth

Orgasm
Summary
The pure Pop is far from Pure and touches all the right spots for me I never thought I'd orgasm from an Ice lolly but I do and it is incredible!
RRP: £110