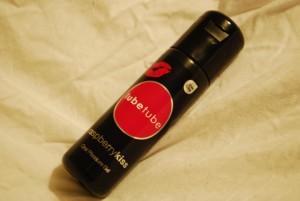 This Lube tube I received from love honey which I won via a competition on Mrs Jojo's blog: http://naughty-corner.com/ I won this flavoured lube among some other sexy goodies and I must say a huge thank you to Mrs JoJo!
Give Lube's lube tube raspberry kiss is a lube which is raspberry flavoured which can be used for oral sex or even just licking off your partner. The Raspberry Kiss lube is water based and smells really sweet much like the blue raspberry fizzy pop drinks I used to buy as a child. It is Pink in color which I like as it resembles the flavour having tried flavoured lubes that are not coloured it's nice to have the color resemble the taste it seems more natural. Upon tasting the lube I was immediately taken back to the same memory of the fizzy drink, I love the flavour and think it is by far better then other raspberry flavoured lubes I have tried.
The ingredients:
Glycerin
Aqua
Hydroxypropyl Guar
Propylene Glycol
Panthenol
Sodium Saccharin
Citric Acid
Aroma(flavour)
Cl14700(FD & C RED No 4)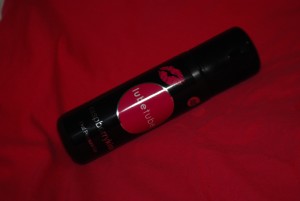 I had tied Mr up to his computer chair wanting to give him oral I wanted him so I could easily access his dick without any complains. I grabbed the lube and poured the cold pink liquid onto his cock He shivered as he felt the wet coldness of the lube. Kneeling I licked the lube from his bellend the lube tasted amazing and the best part was it wasn't sticky so even when I had lowered my mouth onto him and sucked his cock vigorously there was no sticky lube left around my lips or on his pubes. It tasted divine! The lube was easily rinsed off and was none greasy what can I say I love Raspberry Kiss.
Overall Rating
Appearance

Taste

Texture

No Residue

Easy clean up
Summary
I totally recommend Raspberry Kiss to anyone who loves sweet flavoured lubes and the best part is it is sugar free!
RRP: £9.99