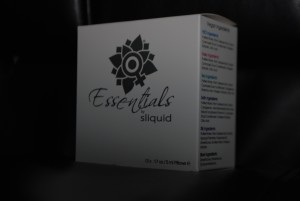 The Sliquid Essentials Lube Cube pack was given to me in return for my honest review by Sliquid.
The Sliquid Essential Lube Cube contains 12 5ml sachets of the essentials Lube range. These are 2 x Sliquid Silk, 2x Sliquid Silver, 2 x Sliquid H2O,2 x Sliquid Sassy, 2 x Sliquid Sea and 2x Sliquid Satin.
The Lube Cube is great for those who have not yet tried Sliquid 's products and want to try out a few without having to purchase full bottles in case they do not like the products. Also the lube Cube is idea for women who travel a lot and want to carry a selection of lubes but are limited to the amount of lube they bring. The sachets are very small and are similar in size and shape to a condom wrapper so will easily fit into a purse or pocket for when you're out and about and need a quick lube up.
There are currently 4 different Lube Cube collections: the Essentials Lube Cube, the Naturals Lube Cube, the Lip Lickers Lube Cube, and the Satin Lube Cube. Each enables you to sample a little of each lube fore buying a bigger bottle which is great.
You can read my reviews on the lubes in this pack in their individual reviews. This is my review for the Lube Cube.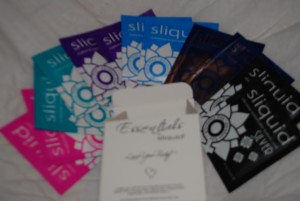 I highly recommend this to anyone think about buying a new lube the idea of having multiple types of lubes in sample sachets is great. I am really pleased that Sliquid chose to do a Lube Cube as I haven't seen anything like it from other lube suppliers. It gives you the chance to try out different lubes without paying the full price for a big bottle when you might only use a couple of drops.
Overall Rating
Appearance

Variation

Quality
Summary
Sliquid Lube Cubes are great and I think that if you're thinking of buying Sliquid Lube you need to get a Lube Cube first so you can get an idea of the products they sell.
RRP: £19.95
You can find Sliquid Essentials at Sliquid.com