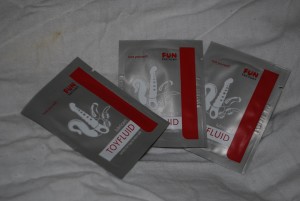 I received 3 sachets of Fun factory's Toy Fluid free from Fun Factory. This is my review on the experience I had using it.
ToyFluid is water based and designed to leave no residue it is also safe to use with condoms.
Pouring the lube onto my Baby Bug I noticed how easy it was to pour not gloopy nor too think I would say that it is the perfect consistency needed for a basic lube. The lube felt smooth and almost oily a similar feel I get from some silicone lubes I've used. The toy fluid at first leaves no stickiness however on the trip to the bathroom I noticed my hand with the lube on got sticky in the short space from my bedroom to the bathroom it changed its feel from oily to sticky. However I do not find this a problem as it is not as near as sticky as the Super Silk.
When it came to using it during masturbation the lube glided easily on the toy and when it came to inserting the toy the lube made the experience a little more comfortable and the silicone less draggy.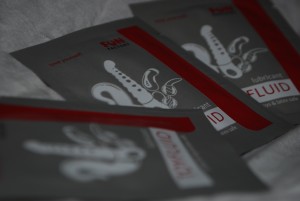 It is also pretty cheap so if you're on a budget I would normally recommend Super silk however because this lube is silky and also less stickier then Super Silk I say go with ToyFluid.
Overall Rating
No Residue

Long Lasting

Easy To Clean
Summary
Highly recommended as a basic essential for the bedside draw.
RRP: £12.90