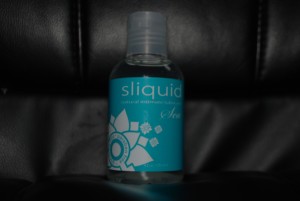 Sliquid Sea was given to me free of charge in return for my honest review by Belle De Soir this is not going to affect my review in any way.
Sliquid Sea is a carrageenan infused water based lubricant at first I didn't know what carrageenan meant so I googled it and this was my answer "linear sulphated polysaccharides that are extracted from red edible seaweeds." The description of the lube on the Sliquid website states it is blended with hand selected natural seaweed extract. This reassured me that what I found on google was right. Carrageenan has great health benefits like reducing the transmission of HPV which is great in itself. Sliquid Sea also includes Wakame which contains vitamin B It improves elasticity and prevents inflammation of the skin, so this lube would be great for people who have sensitive skin and are allergic to most water based lubes. Sliquid Sea also has Nori in it which is a natural moisturizer.
Ingredients:
Purified Water
Plant Cellulose (from Cotton)
Carrageenan
Wakame
Nori
Cyamopsis (Guar Conditioners)
Potassium Sorbate
Citric Acid
As you can tell from the list of ingredients there is not any harmful stuff in this lube and it is 100% vegan friendly. I like the fact sliquid take pride in their lubes and do their best to refrain from the use of any nasty chemicals in their products. Even the label on the packaging states "please recycle this packaging". I think little touches like this shows they care not only about the quality of their products but your health and what's best for the environment too.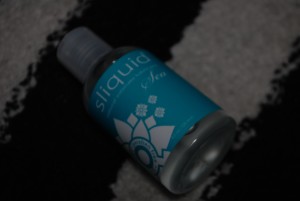 Sliquid Sea is Hypoallergenic and non-toxic which for those with sensitive skin is perfect as it has no nasty stuff in. It is also Glycerin free and paraben free and is long lasting but easy to clean off toys with just a little soap and water.
I found this lube was easy to apply to my toy because of the cap I just poured a little on and there was no mess. The consistency of this lube was perfect not too runny and not gloopy either I found it really easy to apply the lube. The lube doesn't have a smell in general however my nose is pretty sensitive and the only thing I can get a hint of is a kind of tea tree smell I think this is due to the sea weed.
Sliquid Sea is great it doesn't leave a sticky residue like most water based lubes it also feels quite natural like there is almost no lube on the toy at all. It's hard to explain I think the best way of putting it is that it blends with your own natural lubricant so you don't quite feel overly damp or notice that there is a wetness like most other lubes I've tried.  When I had finished I noticed that there was a frothy liquid on my dildo which was the lube however I'm not sure what caused this and it was not an issue for me it was just something out of the ordinary. The lube came of pretty easy with soap and water and left no residue at all on me or my dildo.
Overall Rating
No residue

Easy To Clean

Long lasting
Summary
I would recommend this lube to people who are highly sensitive to the chemicals used in most lubes it is a great lube and easy to wash away it stays in place and lasts quite a while so there is no need to reapply I much prefer this than my normal water based lube.
RRP: £19.95