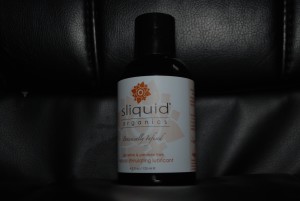 The Sliquid organics Sensation Stimulating Lubricant was given to me free of charge in return for my honest review by Belle De Soir.
The Sensation lube is quite thin in viscosity and if held to my nose I can smell the menthol smell Mr described it by saying "smells like vicks" Vicks is a menthol vapour rub used to clear blocked noses. So it may put some people off but for me it adds to the fact that it is made from natural resources I like the menthol smell so I found I kept sniffing it, it's just one of them smells that calm me.
When it came to using the lube I decided to have Mr apply it before we had sex. He squeezed some onto his fingers and gently rubbed it over my clit. The sensation I felt wasn't instant it took a few minutes for the lube to kick in and when it did I felt a gradual tingly sensation. This made my clit very sensitive with just the faintest touch I could feel incredible amounts of pleasure.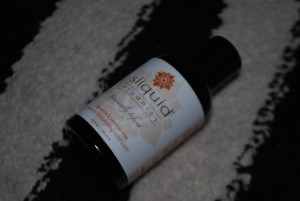 After me then begging Mr to fuck me he did and as he entered me I found that my feelings in my vag where heightened I was able to feel every inch. Thrusting in and out of me I felt that the lube didn't really warm up for me as such but became room temperature it definitely heightened the sensitivity of my bits enabling me to have quite a few amazing orgasms. Mr then decided he wanted to rub my clit whist he fucked me this was normal practice during a sex session however the lube made me so sensitive that I bucked and writhed as he rubbed my clit the pleasure almost being too much.
Ingrediants:
Purified Water
Plant Cellulose (from Cotton)
Aloe Barbadensis
Natural Tocopherols (Vitamin E)
Cyamopsis (Guar Conditioners)
Extracts of Hibiscus
Flax
Alfalfa
Green Tea
Sunflower Seed
Food Grade Menthol
Potassium Sorbate
Citric Acid
Overall Rating
Pleasure

Easy To Clean

No Residue

LongLasting
Summary
I highly recommend this stimulating lube to women who want to increase sensation felt whilst having sex it is amazing. I really adore this lube however I didn't feel the warming sensation. This lube can increase sensitivity and heightens orgasms. The Sliquid Organics Sensation is by far one of the best stimulating lubes I have used and is definitely a favourite of mine.
RRP: £19.95