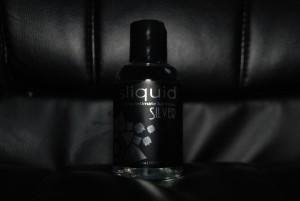 Sliquid Silver was given to me by Belle De Soir in return for my honest review thank you Belle De Soir.
Sliquid Silver is a silicone lubricant which is long lasting and waterproof. It is made of a concentrated blend of medical grade silicones. However it does stain sheets!
The Testing of this lube was pretty tricky to say the least. It is supposed to have no smell however I was able to indicate an antibacterial hand gel smell, it may be my nose is slightly sensitive but it can only be smelt when right by my nose which isn't an issue for me. When pouring the lube onto my dildo I was shocked at how fast it came out, the lube is extremely runny and dripped all over my bed sheets as it was unable to stay on my dildo. When masturbating with the lube I noticed how easy it was to glide the dildo in my vag it was really smooth. The lube is really oily so after I was done I washed it off with warm water and soap however I couldn't get all of the oily residue off my skin, it did leave it feeling smooth though.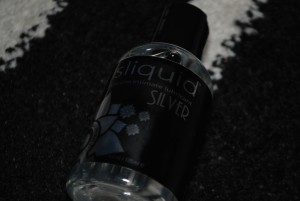 Cleaning this lube off my dildo was a chore and took 3 attempts of my giving my dildo an antibacterial soap hand job to get the oily substance off. I would say that it's a lube that stays put of course its long lasting but it lasts even after you've finished. I also think the runny consistency of the lube could be improved as it does stain and with the runniness it just drips everywhere.
Ingrediants
Dimethicone
Cyclopentasiloxane
Dimethiconol
I personally found this lube too runny and too oily for my liking however it did its job. I would only recommend this lube for those who have really long masturbation sessions or those who enjoy to masturbate in the bath or shower as it does last incredibly long and there is no need to re-apply during use.
I have since used the Silver during a bath and due to the nature of the sillicone in the lube it stays put during masturbating this is not a normal thing for me as i don't like water entering my vag however others who like to use toys at bath time might find this lube very useful. I found the lube didn't wash of during masturbation in the bath and lasted the whole session without me having to get out and re apply the lube. This is also googd news for those who want to enjoy a steamy shower together and have anal.
Overall Rating
No Residue

Long lasting

Easy To clean
Summary
That said i do not normally masturbate during a shower or bath so for me this lube really doesn't suit my needs but it will be a great lube for me to use when we have anal.
RRP: £19.95