The Sliquid Organics Stimulating O gel was given to me by Belle De Soir in return for my honest unbiased review thank you Belle De Soir.
Sliquid Organics is a range of lubes and stimulation enhancers created by using natural ingredients Sliquid also use recycled material for their packaging which is a great touch. Sliquid are a great company that offer brilliant products with no nasty stuff in they also make sure they look after the environment.
I was weary when it came to using the O Gel as I previously have used clitoral enhancers and they have irritated me. This was not the case with the Organics O Gel. I rubbed the gel over my clit and labia before me and Mr where going to have sex. I felt the O Gel work immediately as soon as it touched my skin it gave me a cooling, tingly feeling like someone was blowing a minty breeze across my clit. The feeling went from my clit down my labia which was nice I enjoyed the full stimulation from this Gel. After just a few minutes post applying I was ready to have sex. I was turned on and so wet it shocked me that I was that aroused so quickly Mr felt me and said what I was thinking "your wet baby". I can't say it enhanced the orgasms I had as I didn't really feel it once Mr and I were having sex.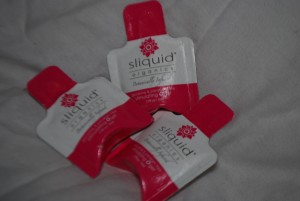 The O Gel is easy to apply and does not leave any sticky residue which means no bath room trips mid arousal. The O gel starts to work almost immediately you can definitely feel the tingles which is unlike any other stimulant I've used. It doesn't have a smell as such I can smell a faint flowery, leafy smell but only if I really focus really hard on the smell.
Ingredients':
Purified Water
Plant Cellulose (from cotton)
Natural Tocopherols (Vitamin E)
Cyamopsis
Peppermint Oil
Sweet Almond Oil
Menthol
Potassium Sorbate
Citric Acid
Flax
Alfalfa
Green Tea
Sunflower Seed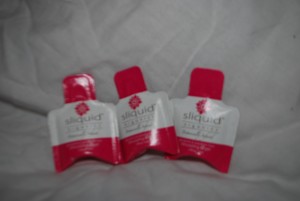 The O Gel is hypoallergenic so if you have sensitive skin this will not irritate you. It is also non-toxic and has no parabens or glycerine. The O Gel is vegan friendly and Sliquid did not test this product on animals which is great if you are against animal testing. Sliquid really have pushed the boat out when it comes to making sure this products is safe for the environment and also that it is safe for you and also there was no animal testing involved makes me realise what care goes into their products.
Overall Rating
Pleasure

Long lasting

No Residue

Easy To Clean
Summary
I highly Recommend Sliquid Organics O Gel for women who want to quicken the time it takes for them to get aroused I also recommend this for vegans because it is vegan friendly however it works better than most the enhancers I've tried so you're not losing out on the quality of the product by it being vegan friendly.
RRP: £19.95