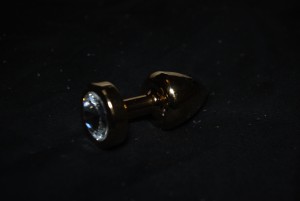 The Precious Metalz 24k Gold Butt Plug is my first metal one and I brought it in a sale for £20. When I decided to get this I was choosing between large and small I of course went for small. I had previously had small plugs from other companies and they ended up quite big so I went for the safe option. The plug is gold in colour with a clear crystal on the base.
When the plug came I was surprised at how small it actually was it was tiny and so cute but I was wondering if it would get swallowed whole it was that small. Nether the less it looked very pretty.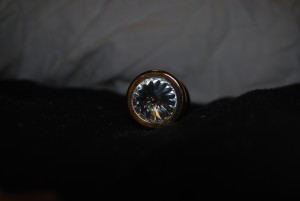 When it came to using this plug I used sexxxations anal rub to lube my ass up. The rub got to work and my Mr lubed up the plug and slowly inserted it into ass the metal was so cold. The coldness of the plug as it entered me was incredible I took a moment to take in the feeling of the plug. The plug was comfortable to wear so comfortable in fact it didn't bother me when I was on hands and knees on the bed while my Mr spanked me with my paddle with every hit I felt the plug move a little. The problem I had with the plug was that I have a pretty big bum and the jewel seems to disappear as my ass cheeks swallowed it. To view the plug in all its glory I had to really bend over as if to touch my toes or spread my ass cheeks with my hand. I also kept having the feeling that my ass hole was going to suck in the tiny flared base. I would've much proffered a larger base to reassure me that I wouldn't end up in A and E having to explain there was a butt plug floating around inside me somewhere. While Mr fucked me I felt the plug move against his cock it was a very filling experience however I kept feeling my ass to check if the plug had managed to disappear thankfully it had not.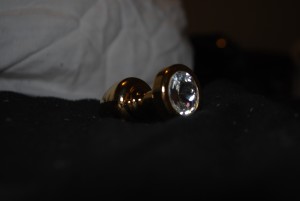 Overall Rating
Appearance

Shape

Base

Orgasm
Summary
I would not recommend the small to anyone it is only fit for those mythical little Irish fellows really it is so tiny and not very comforting knowing the base is so small I was like a nervous wreck however this plug did feel great the metal was a huge orgasm booster but I just can't get past the fact it is microscopic.
RRP: £47.99
You can find this Beautiful Butt Plug at Segzi.co.uk