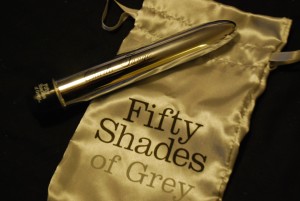 I really liked the look of this vibe very simple yet sleek quite like that of the We aim to please bullet. This vibe has a twist control at the bottom of the vibe to control the intensity of the vibrations. This vibe is very easy to use and very pleasing on the eye.
The Charlie Tango is an all-time favourite of mine a very simple classic vibe quite like the basic ones you can buy from stores they often have their own version of the classic vibe however with the fifty shades branding and the black on silver letting it adds a little something more to the classic vibe making it look more modern.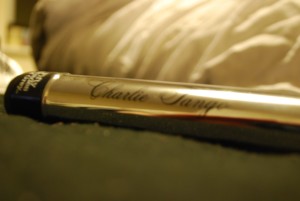 Charlie tango is a pleasure to use I can switch between speeds very easily and it really is the right length and width to stimulate my vagina causing me to go into an orgasm frenzy. The versatility of this vibe is great it can be used to stimulate the nipples and also works great as a powerful clit vibe. It is great as a first vibe as it does not have any scary advanced switches or different buttons and the shape means it's very friendly for beginners. The metal casing felt so cold and unexpected when It entered me that it brought me a new kind of pleasure once warmed up by my vag the vibe tends to keep the heat from my vag and feels very soothing with the warm temperature when pulled out and used on my clit it feels really comforting.
There is nothing bad to say about the Charlie Tango with it being a classic shape and design it is pretty much fault less the speeds are great and range from a low buss to a powerful vibration and everything in between.
I highly recommend this vibe for a first timer and also for those fifty shades of grey fans. This is one of my favourites from the collection and is one of the simplest vibrators you can get. I would like to say it is a bit on the pricey side but if you're a diehard fan and want to own a piece from the collection I would suggest this rather than the other vibes in the collection due to the versatility and effectiveness of the Charlie Tango.
Overall Rating
Appearance

Vibrations

Orgasm
Summary
Charlie Tango is one of my favourite vibes due to its sexy look and the fact it's an amazing vibrator.
RRP: £26.99
You can find this Classic Vibrator at Belledesoir.com