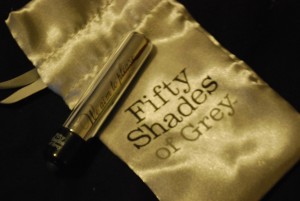 We Aim Not To Please and leave you quite aggravated with orgasm denile should've been the name for this bullet. As bullets go it's got a lot of major competition with the rocks off 3 speed being around the same price if not cheaper this one speed bullet really has a lot to live up to.
I brought this bullet with the quote being an all-time favourite of mine from fifty shades. I really liked the look of the bullet with the shiny finish contrasting with the black wording it is very eye catching. It has a one speed push button control I hope the one speed was a high one as I really don't like low speed bullets.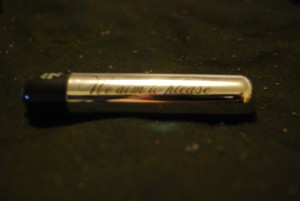 When it came to the test of this bullet I switched it on with my initial thought being "this is weak". I brushed that aside and carried on anyway i held it over my clit for half an hour and it failed to bring me to climax even with vigorous movement from my hand brushing the vibe across my aching clit wanting it to pleasure me. Still it did not and I was left feeling aggravated stressed and exhausted from my half-hearted attempt to will this vibe to bring me to climax. I gave up and opted for my rocks off bullet which even on the lowest of the tree speed is a lot more powerful then "we aim to please" I really wanted this bullet to blow me away however the promise to intensify solo pleasure was cut short by its poor performance and what very little vibrations it does make are so weak even my sensitive clit couldn't get any pleasure at all from it.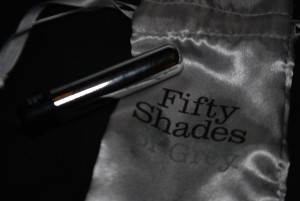 Overall rating
Appearance

Vibrations

Orgasm
Summary
I don't recommend this at all go and by a good quality bullet from rocks off. Don't be fooled by the Fifty Shades branding I think this bullet is of poor quality and a waste of £11.99 We Aim To Please is a disappointment to the Fifty Shades of grey range.
RRP: £11.99
You can find the Fifty Shades Of Grey We Aim To Please Bullet at Belledesoir.com