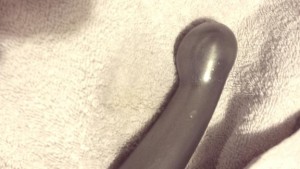 I won this Tantus Sport short in the New Year's give away which was by Ali's Addiction. So many thanks to Ali's Addiction for my competition prize!
Well they say size matters for a reason. This dildo kind of let me down. I heard good things about tantus however when I tried the sport with it being my first tantus dildo I was surprised by how soft the silicone was for a g-spot stim it was a bit too soft for my liking.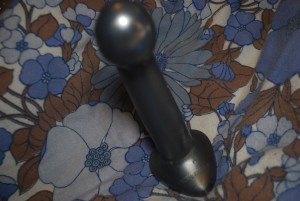 The handle of the sport is a tear drop shape which is perfect to hold during thrusting I found if I placed my thumb over the top if the tear drop and the rest of my hand underneath I could have complete control of the dildo. This dildo is also harness compatible so it's great for those who like to engage in harness play. The silicone is body safe and also really hygienic you can sterilize it, boil it or use 10% bleach solution. Making it great for women who like to share toys or it can be used for a female couple to engage in sex with a harness the hygienic-ness is perfect for female couples as it can be sterilized in between use from each woman.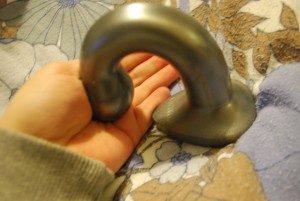 So now the nitty gritty bit of my review my play session. I found the slender shape did not stretch my vag too much making use comfortable. When fully inserted the bulge at the tip of the dildo which is supposed to stimulate your g spot did not reach mine at all it was too long for full insertion to get the correct positioning I needed to reach my g spot id say it was roughly about 2 inches too deep to reach my g spot. So on that note to get the proper stimulation I had to insert it half the way into my vag and still this didn't reach the back of my g spot. I resulted to tilting the dildo down so that the tip was slightly raised up inside my vag to reach the top wall of my vag and it hit the back of my g spot nicely. However it is difficult to keep this position when thrusting especially as the silicone is soft so it gives a bit of a wobble when thrusting. When I engage in g spot stim I need hard fast and firm stimulation to make me reach a squirting climax. I found it worked better with a rocks off bullet against my clit because every time I was about to cum I would push the dildo out but needed to continue stimulation to squirt so I used a 90mm bullet with the sport and it felt amazing. The slim shaft of the sport make it easy to climax as when I squirted the force pushed the shaft out quite easily making squirting more easy.
Overall Rating
Appearance

Length

Girth

Orgasm
Summary
They call it the sport I did end up engaging in what I'd call a water sports session. It ended with a wet pool of my cum and please me quite good, so good in fact I struggled to stand when I stood through my legs trembling.
RRP: £42
You can find the Sport (Short) at Tantusinc.com