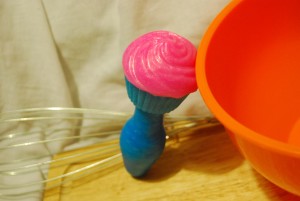 This plug is just so cute! I couldn't help but wonder how adorable it would look between my cheeks. I purchased this plug from Gespenst fantasy gear on his etsy shop I have purchased from this seller before and was pleased with his products.
The cupcake butt plug is so pretty mine is a blue base with pink swirl the blue silicone is quite firm however the swirl is soft this did not bother me as the swirl is the part that stays outside the ass. After testing its durability and strength by getting my Mr to pull on it like a tug rope to reassure me it won't get stuck. We decided to test it out.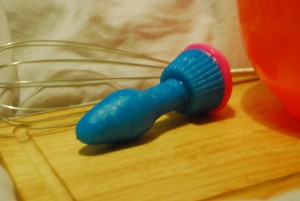 My Mr covered the plug in water based lube I found this arousing in itself. Then he slowly inserted the plug into my ass the feeling was quite amazing the plug is the right size for me and fit quite snugly inside my ass. When it popped all the way in I was wondering how Mr felt did he think it was pretty? Did it look great? Well I felt that it did look great. So to test this even further we had sex while I wore the butt plug this was great being a fan of DP when I'm really horny I thought the plug was a great companion for us while we were having sex I couldn't help but reach round to feel the plug in my ass. However the joy was short lived as the pressure of my Mr's dick forced the plug to pop out of my ass we had to shove it back in a few times but on the whole it was a funny experience that had us both in fits of giggles.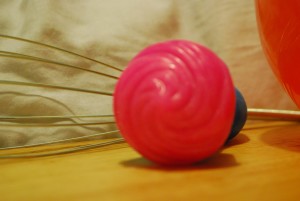 You can ask for custom orders to have the butt plug in whatever pretty colours you like so this seller is really accommodating your every need. Made with medical grade silicone the plug can be sterilized prior to use with different partners.
Overall Rating
Appearance

Shape

Base

Orgasm
Summary
I would recommend this plug to beginners as the plug isn't large it's quite small and beginner friendly.
RRP: £20
You can find the Cupcake Butt Plug at Etsy.co.uk