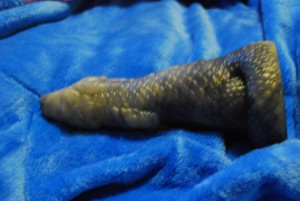 Falcor is what I've named my Meng from bad dragon as he reminds me of the dragon out of a film from my childhood which is about a book that never ends. He is great for beginners as he is the only dildo from bad dragon that doesn't resemble an animal or dragon penis which makes buying it less scary if you're new to bad dragon. For someone who is new to fantasy toys this could be a great toy to have as it looks so pretty and when on the shelf it kind of looks like it could be an ornament no one need ever know where you shove him.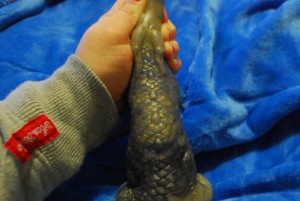 So when I saw this adorable dragon on bad dragon's adoption page I had to have him he was my first purchase from bad dragon and he's just perfect. Meng comes in a standard size which is considered small but I think is about right. The color of my Falcor is rogue however he's of a greyish, silverish, pearly shimmery color. My Falcor is in soft I found this to be too soft for hard thrusting but great if you want to slap your partner with I just love the sound it makes.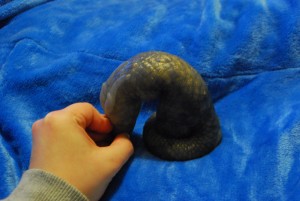 When it came in the mail I couldn't wait to try him out so I started. When inserting Falcor I noticed that I could feel every bump and scale along his body as I thrust him in and out my vagina. He has major texture. Every intricate detail was turning me crazy with pleasure. The designs is built so that it gets girthier toward the base this is great as I built up to the girth and didn't rush into it stretching my vag too much it felt great. However because I was new to bad dragon I hadn't figured out which firmness suited me so I would recommend firm for those who like to use it analy and for hard thrusting medium if you're not sure which firmness to choose is great because it's not too soft but not as firm as firm. And soft for vaginal use and if you like gentle penetration. If in doubt order a firmness sample from bad dragon I did this when I ordered my Nox custom order I use them more as stress balls they're great to squish.
Overall Rating
Appearance

Length

Girth

Texture

Orgasm
Summary
Everyone needs to get their own Falcor and I mean everyone even if it's just for a centrepiece on the living room table because it's so detailed it really is a piece of art that is built for fucking.
RRP: £37.11