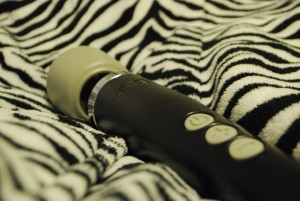 The power tool of the sex toy world! I had to get myself a wand vibrator so I opted for the doxy which looked more modern then the body wand. I needed to see what all the fuss was about. I considered myself to need a lot of power to reach climax I did indeed learn a valuable lesson from my doxy wand.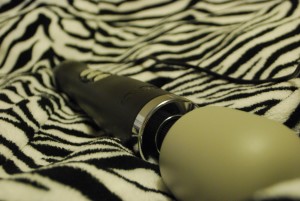 The doxy is mains powered once plugged in and switched on it automatically vibrated ¾ of the full power so I needed to press the minus button to reduce the vibrations to low not wanting to go in all full force. Let's just say this wand is a beast big and powerful yet disguised by the sophisticated look of the wand it hides a lot of the fact that it's a mains powered orgasm machine. So this is incredible to use held against my clit for a few seconds and I have immense powerful orgasms. It doesn't pin point vibrations it kind of vibrates across your whole vulva making a great kind of feeling that gets me so aroused it is unreal.
Another time I tried the doxy against my clit while my Mr was fucking me it was fabulous I really felt the vibrations vibrating deep inside my vulva while his cock pounded in and out of me relentlessly and it is totally worth trying out. I prefer to use my doxy with my partner. I held it against his balls and he was in fits of giggles saying it tickled but also felt great.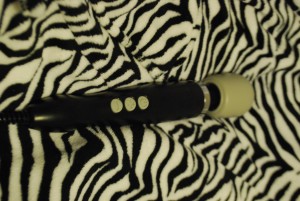 We now use the doxy during sensual massage it's great to get worked up for the sex at the end with using the doxy to massage each other it makes a great bonding experience for couples. I regularly get my Mr to massage my back with my doxy as after having 2 kids it takes its toll on me and my back aches a lot also due to ongoing medical problems with my back it's great to have a deep tissue massage to take the ache away. I give my Mr a massage after a hard day's work he's grateful and falls to sleep with me using the doxy on him half the time he's that relaxed.
In recent doxy shenanigans i held the doxy to mr's penis and it hardened like magic! I used the doxy to massage his bellend through his foreskin he enjoyed this so much ! i tease and tease until he came! without any thrusting or even pulling back his foreskin a tickle of cum erupted from him.
This has now brought me to try more vibe son Mr just a spur of the moment thing like this has proven that the Doxy inst just for women!
Overall Rating
Appearance

Vibrations

Orgasm
Summary
Wand by name Wand by nature. Yes I highly recommend this wand vibrator to anyone even if it's just for the massage because it works like magic. Its couple friendly which can be great if you want to explore your sex life as a couple further with sex toys. It is a must have for any power queen I haven't yet made it up to full power as when it's on full power it feels like a jack hammer against my clit. Like I said power tool of the sex toy world.
RRP: £62.99