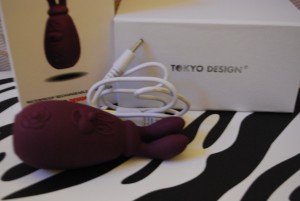 Okay it looks like an Easter egg bunny. I love the look of this toy it's so damn cute who doesn't like cute? Well the flower push button ads to this cuteness it's discreetly hidden and looks like the rabbits belly. The Maro Kawaii 6 is rechargeable yes I said rechargeable which is great when it comes to vibes no more running out of batteries and waiting to go shopping to stock up with a raised eyebrow from the shop assistant. Yes they're for me, I normally use the "they're for my kids toys" excuse and just give them a deep stare they then just carry on scanning. Right a bit of blabbering then, so it is great it's rechargeable. You can charge it though any USB port as comes with the charging wire in the box. Oh and did I mention it lights up BLUE when charging. I have a strange obsession for blue lights they're so pretty. This guy is waterproof yet I can't orgasm when using him in the bath so I think its best used out of water but he is totally submergible for those who like to play when its bath time.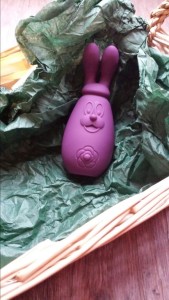 This lil cutie is made from super smooth silicone. It needs to be felt to be believed. When using the Maro Kawaii I put the ears against my clit and what I felt shocked me. They move in a come hither motion against my clit which I thought would feel like someone licking my clit. I was indeed wrong and it felt like someone flicking my clit. The vibrations on the Maro Kawaii 6 come in 3 speeds, slow, medium and fast and four rhythms. To achieve orgasm I hurriedly flicked through the speeds fingering I needed power so only the fast speed would have an effect on my clit. I needed to feel the flicking motion more firmer and held the rabbits ears firmer to my clit the pressure I put on the vibe was not that hard however as I reached my peak the ears stopped moving they just vibrated and didn't flick. WHAT! I was given orgasm denial by this bunny. Every time I put pressure of the ears they stopped flicking I think it is due to the mechanics of the rabbit. However if I didn't put pressure on it felt like butterfly wings on my clit which I barely felt I managed to orgasm after various stops and starts with this bunny.
Overall Rating
Appearance

Vibrations

Orgasm
Summary
I had high hopes for this vibe but all I can say is looks are deceiving it looks amazing even when charging but performance wise it is awful for going in hard and fast probably ok for more sensitive women but my clit is just to hench for this guy.
RRP: £40